The Drover
Item 1 : David Jones Company £2 note
The drovers were a key element in the establishment of many Welsh Banks. With he constant dangers faced by drovers when travelling back to Wales with their pockets heavy with gold, another way was needed to safeguard their money. Some sent the money back to Wales on the Royal Mail Coach but the most common practice was to place the money in a bank close to the market. Many drovers established their own banks such as the Black Ox Bank, established by a drover called David Jones in Llandovery in 1799, and sheep drovers in Tregaron and Aberystwyth established the Black Sheep Bank at the beginning of the 19th century.
NLW Paper Money Collection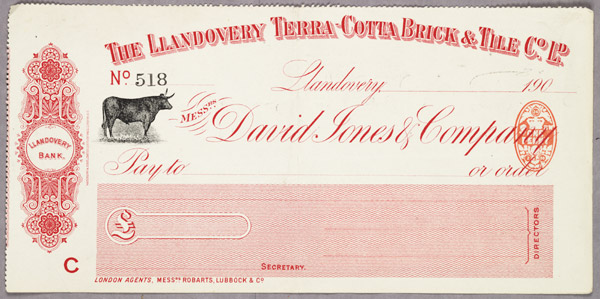 The National Library holds the rights to the digital images and prior permission to reproduce them in any medium must be sought from the Librarian, National Library of Wales, Aberystwyth, Ceredigion, UK, SY23 3BU.